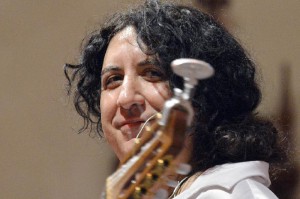 Giandomenico Anellino is a famous italian guitarist.
He lives in Rome, but travels around the world with his guitar.
He graduated from the "Conservatorio S.Cecilia" (Rome) with honours.
He played with famous Italian singer like Claudio Baglioni, Renato Zero, Zucchero, Amedeo Minghi, Adriano Celentano, Riccardo Cocciante, Gilbert Becaud, Mariella Nava, Massimo Ranieri etc. and with international artists like Josè Carreras, Randy Crowford, Dee Dee Bridgewater, Dionne Warwick, Brian Adams, Lionel Ritchie, Noa.
He played his guitar in many Tv programmes in Rai and Mediaset and created or arranged many sound-tracks and films themes: Come te nessuno mai, Natale in casa Cupiello, L'ultimo concerto. He also played with his Orchestra the theme of the musical "Notre Dame de Paris".
Giandomenico Anellino recorded many albums just with his guitar and now he's working for a new project: a cd with 12 songs for guitar and orchestra. He wrote also a book with musical arrangement: "Switch on guitar – plays Beatles".